With the latest lockdown now starting to lift, a little more than a year since we entered the first, it is clearer now more than ever the effects that these prolonged periods of isolation have had on the mental wellbeing of the nation. The first lockdown has brought with it a marked increase in anxiety (a 12.5% on the same period in 2019), and mental wellbeing as a whole remained 'significantly worse' through the rest of the year[1].
Young people have been hit particularly hard, with schools, sport facilities, and other community settings closed for most of the past year and social contact restricted to technological means. An NHS study in July 2020 found that 16% of young people had a probable mental health problem, a noticeable rise from the previously reported 10.8% in 2017[2]. One voluntary sector service offering mental health support by telephone and online found that between May 2018 and November 2020, children aged 13 or under who have used their service were the age group most likely to discuss self-harm and bullying[3].
Most worryingly, 45% of young people who may have mental health problems had not attempted to seek help due to the pandemic[4], and pupils of both primary and secondary age have reported feeling like they sometimes do not have anyone to talk to[5].
And these issues can have effects on those around the young person as well. Young people with a probable mental disorder were more likely to have a parent with a higher level of psychological distress[2].
The evidence is clear – but what is the answer?
SW!TCH Minds
Helping young people become Agents for Change
Part of our wider SW!TCH initiative, SW!TCH Minds works to improve the mental health of young people through a carefully-designed programme built around weekly one-to-one mentoring sessions supported by a range of extra-curricular positive activities and opportunities to engage with the local community.
Mentors draw from our VIP Mentoring programme and form the foundation for the long-term relationship we aim to build with each young person. Our mentors currently work with young people from 18 different schools across Barking and Dagenham, Havering and Redbridge, using a mix of face-to-face and online sessions as needed due to the ongoing pandemic. We've also started to work closer with other services across these three boroughs, such as CAMHS, and started to take referrals from them as well to help counter the increased strain on mental health services due to the pandemic.
With various COVID restrictions over the past year making it hard to access young people in school at times, we expanded our reach to their families too. The team took this time to connect with the parents of the young people we work with and were able to gain valuable insights into the issues that the young people face – particularly some that they might not reveal in a school setting. What they also found was that many parents themselves were struggling, particularly with schools closed and other restrictions. This led to the team developing and delivering regular support sessions for parents, so they can better engage and understand their children and help support our work at home. And this need, first identified by the SW!TCH Minds team, led to the development of our Champions Support Network for parents.
Positive activities are delivered by our team to engage with young people outside of school hours – these provide them with a positive way to express themselves, a space where they can meet new people and build friendships, as well as a chance to explore and learn new skills. These include both a range of physical activities, such as football, trampolining, and roller-skating (where possible due to COVID restrictions) and various forms of arts and crafts.
Many activities were also available online, particularly during periods of lockdown, including quizzes, online gaming sessions and exercise classes via Zoom. Of course, these activities must be shaped by the needs of the young people – when one of our youth workers identified wellbeing issues among the girls she worked with, she responded by starting an empowerment group to help them with issues of self-esteem, image and consent.
Finally, we want to ensure young people can be involved in helping others too – from our first cohort of young people, 18 were chosen to join our SW!TCH Ambassadors programme. These young people are now working alongside our SW!TCH team to provide guidance and support to their peers, to both support and lead the delivery of positive activities, and even to produce and design new activities – like our recent Positivity Breeds Possibility event, an online concert created and coordinated by our Ambassadors working closely with Havering Council. 
The young people we work with complete a survey using the Warwick and Edinburgh Wellbeing Scale (WEMWBS) at regular intervals. This involves 14 questions on mental wellbeing on which they award a score of 1 to 5. In 2020, despite the effects of the COVID pandemic, young people involved with SW!TCH Minds saw an average increase in 4 points in their wellbeing score after taking their second survey after around 12 weeks of engagement – this stands  in stark contrast to overall fall in wellbeing experienced by many shown in the statistics we saw earlier.
Average WEMWBS score, first survey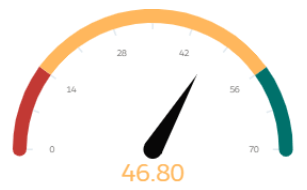 Average WEMWBS score, second survey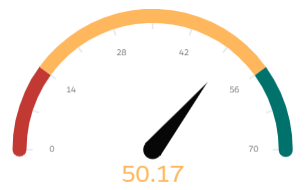 In an anonymous survey of young people involved in SW!TCH Minds, we saw that 94% found the one-to-one mentoring sessions useful, that 79% said that it had given them someone they could trust to talk to, and that 94% would recommend the programme to other young people.