This is my first month back at work after taking a sabbatical. Luckily for me, as I step back into the role, not much has changed. Same desk, same office space. The one thing that has changed is me—but that's a story for another time. It did get me thinking, however, about other members of our team who moved on from LifeLine only to return to us in time, sometimes many years later. I've come to call these employees boomerangs.
The idea of an employee returning to a previous place of work happens more than we'd think. UKG reported that, in the USA in 2022, nearly 1 in 5 people who resigned during the pandemic returned to their old job. They also found that 62% of people who left jobs said the job they quit was better than their new job.
In the world of sports or entertainment, returning to a former role is commonplace—a reunion, a comeback. Now, we don't usually make a big song and dance when someone returns to a previous role, but I think we should. We need to see this as a positive step on a person's career.
There are two things I love about boomerangs. First is that they're already quite familiar with our office culture. Second, and most importantly, they've usually gained some new skills that they share with us.
Someone once told me that "People aren't looking for the right job. They're looking for the right organisation." When we interview someone for a vacancy, of course we want them to be a good fit for their role. But more than that, we want them to be a good fit for LifeLine.
In a 2018 Quantum Workplace survey, more than half a million employees were asked what words best describe their office culture. The top twenty words were: fun, challenging, friendly, engaging, rewarding, collaborative, flexible, supportive, exciting, caring, family, professional, busy, fast-paced, innovative, teamwork, motivating, positive, comfortable, and integrity.
I feel that a major driver for people returning to us is that the work we do not only gives them a strong sense of purpose, but it also gives them the freedom to be part of the solution.
I'm not saying that we ticks all the boxes but a lot of those top twenty words come up repeatedly when we ask our employees what they love about working here. If you've been reading our spotlights on staff members, you'll see that words like family, teamwork, caring, supportive, friendly, rewarding and positive are what they use to describe LifeLine and its staff.
To round us out, we asked a couple of our boomerang staff members to tell us a bit more about their own experience with leaving and returning to us.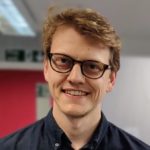 A few years back, I briefly worked part-time with LifeLine's youth team, mentoring Sixth Formers at local schools. But that contract came to an end so I had to move on.
I got a job managing a charitable café in Tower Hamlets. I was managing a large team of around 15 people. I picked up lots of people management skills there. Working in a café is fast-paced and frenetic and there's lots of problem-solving, from setting up rotas to placating difficult customers.I think it made me much better at keeping calm under pressure.
Then, in 2018, the opportunity opened up to join the FaithAction team here at LifeLine. It's completely different from managing the café—much less intense in many ways. I think I'm more confident in working with people now and more able to take the initiative. I enjoy the opportunity to think more strategically in FaithAction.
It's a very different way of thinking, with more of a focus on influence with government, rather than the 'frontline' one-to-ones with individuals. In the youth team, I felt like I always had my "head down", trying to make a difference locally. FaithAction gave me a broader perspective of the successes and challenges of faith-based organisations on a national footprint. Yet, both perspectives are equally important. As Nathan said recently, this dual aspect is part of what makes LifeLine unique.
—Jeremy Simmons, Policy and Programme Officer, FaithAction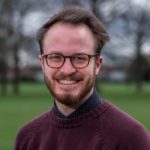 I'd been with FaithAction for 2 years when I decided it was time to move on. I started working with entrepreneurs and investors—it exposed me to a new way of working and a different mindset when to came to making an impact. It was much different than working in the charity sector.
After leaving, I'd kept in touch with my former line manager, and we had several conversations about me returning, particularly the gaps they found in the team—it ended up aligning very well with the kind of role I was looking to move into next. He was also keen to bring in what I'd learned from 'the other side'.
I returned to a managerial role—resumed some of my previous responsibilities, but also got some exciting new ones. Most notably, I've been working with our Business Development team using these new skills and played a key role in securing new funding for FaithAction.
I think the main change, though, was to do with my own perspective. Before I felt that doing my job well meant simply to do whatever was asked of me. But I came back with greater confidence, a renewed sense of ownership of our shared mission, and a better understanding of how I can use my skills to drive the organisation further. Leadership has been receptive to my new ideas and ambitions, and I feel I'm making a much bigger impact now—it's made for a more rewarding experience.
—Matt Allen, Project and Development Coordinator, FaithAction